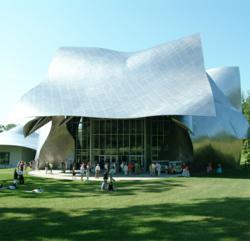 Annandale-On-Hudson, NY (PRWEB) February 02, 2012
Culture at the crossroads in Belle ?poque France will be explored at the ninth annual Bard SummerScape festival, which once again features a sumptuous tapestry of music, opera, theater, dance, film, and cabaret, keyed to the theme of the 23rd annual Bard Music Festival. Presented in the striking Richard B. Fisher Center for the Performing Arts and other venues on Bard Colleges bucolic Hudson River campus, the seven-week festival opens on July 6 with the first of three performances by Frances Compagnie F?tes Galantes, and closes on August 19 with a party in Bards beloved Spiegeltent, which returns for the full seven weeks. This years Bard Music Festival explores Saint-Sa?ns and His World, and some of the great French composers most innovative compatriots provide other SummerScape highlights, including Emmanuel Chabriers op?ra-comique The King In Spite of Himself in a first staged revival of the original 1887 version; Moli?res final comedy of manners, The Imaginary Invalid (1673); and a film festival, France and the Colonial Imagination. Together, Bards offerings present a vivid portrait of a dazzlingly creative and colorful era in European history: a Golden Age of promise and possibility that came to end with the tragedy of World War I.


* *
Dubbed part boot camp for the brain, part spa for the spirit by the New York Times, the Bard Music Festival provides the creative inspiration for SummerScape, presenting Saint-Sa?ns and His World: a far-reaching and illuminating program of orchestral, choral, and chamber concerts, as well as preconcert talks and panel discussions, all devoted to examining the life and times of Camille Saint-Sa?ns (18351921). The French composers long career not only spanned the course of French music from Gounod to Ravel but, thanks to his co-founding the influential Soci?t? Nationale de Musique, helped shape it too. His own prodigious compositional output reflects his virtuosity on piano and organ, and, in its advanced chromaticism, his championship of Wagner and Liszt. Yet the clean, almost classical transparency, and the brilliant glitter of his orchestration, help define a sound that is unmistakably French. The Bard Music Festival offers an immersion in French late-Romanticism with its trademark opulence and emotional richness from luminaries like C?sar Franck and Claude Debussy to lesser-known figures like C?cile Chaminade while also contextualizing Saint-Sa?ns within the wider musical world, alongside composers both conservative and modernist. A wide range of Saint-Sa?nss music will be performed, from popular works such as the Organ Symphony, to his rarely performed biblical poem, Le d?luge (The Flood). With its recognized gift for thematic programming, Bard achieves a depth and breadth of musical and cultural discovery that is truly unique. The two weekends of the Bard Music Festival will take place on August 10-12 and August 17-19 (see further details below).
The American Symphony Orchestra, under its music director, Leon Botstein, is in residence at Bard throughout SummerScape. Bards annual opera will be the first staged revival of the original 1887 version of The King in Spite of Himself (Le roi malgr? lui), an opera by Saint-Sa?nss compatriot and contemporary Emmanuel Chabrier. Conducted by Botstein, whose 2005 concert performance of the op?ra-comique was vibrant and assured (New York Times), the production will receive a contemporary treatment from Thaddeus Strassberger, director of SummerScapes previous, celebrated productions of Les Huguenots and The Distant Sound. In theater, Bard will present Moli?res final play, The Imaginary Invalid (Le malade imaginaire, 1673); blending satire with farce in an indictment of the medical profession, this classic comedy of manners will be directed by Princess Grace Award-winner Erica Schmidt, creator of three previous SummerScape offerings: The Tender Land, The Sorcerer, and Uncle Vanya. A significant dance performance has opened SummerScape each year since 2005. This year, the Compagnie F?tes Galantes will launch the festival with Que ma joie demeure (Let My Joy Remain, 2002), which celebrates the sublime music of Baroque master J.S. Bach with B?atrice Massins contemporary choreography.
Imported from Europe for its seventh SummerScape season, Bards authentic and sensationally popular Spiegeltent is a handmade pavilion decorated with mirrors, centered on a theater-in-the-round that doubles as a dance floor. Offering food, beverages, and entertainment on Thursdays through Sundays throughout SummerScape, the mirrored tent is the festivals center for fun and refreshments. During weekend days the glittering tent of dreams hosts family programs, and in the evening theres a lineup of cutting-edge cabaret and musical performances, with post-show dancing and drinks.
Critical Acclaim:
Londons Times Literary Supplement lauded SummerScape as the most intellectually ambitious of Americas summer music festivals. The New Yorker called it one of the major upstate festivals, and American Record Guide agreed, Bards SummerScape has to be one of the New York areas great seasonal escapes. Travel and Leisure reported, Gehrys acclaimed concert hall provides a spectacular venue for innovative fare. Newsday called SummerScape brave and brainy, Musical America judged it awesomely intensive, the New York Times pronounced it ever a hotbed of intellectual and aesthetic adventure, and the New York Sun observed, Bardoffers one of the best lineups of the summer for fans of any arts discipline.
????* *
Bard SummerScape 2012 highlights by genre
Music
The numerous offerings that make up the comprehensive 23rd annual Bard Music Festival, Saint-Sa?ns and His World, take place during SummerScapes two final weekends: August 1012 and August 1719. Through the prism of Saint-Sa?nss life and career, this years festival will explore the music of the Belle ?poque that set the stage for modernisms subsequent upheavals; it was, after all, in Paris and well within Saint-Sa?nss long lifetime that Stravinskys notorious Rite of Spring premiere took place.
Saint-Sa?ns, from his childhood as a prodigy dubbed the French Mozart, was a consummate and exceptionally versatile musician. His oeuvre includes 10 concertos, five symphonies, 39 chamber works, 50 solo piano pieces, 12 operas, numerous choral works, more than 90 songs, nearly 40 transcriptions, and incidental music for six stage plays. A world-class virtuoso on piano and organ, he was also a conductor, critic, essayist, editor, and at the start of his career a musical pioneer, instrumental in introducing German innovations, not least the symphonic poem, to France.
The 12 musical programs, built thematically and spaced over the two weekends, range from Saint-Sa?ns and the Cultivation of Taste to Out of the Shadow of Samson and Delilah: Saint-Sa?nss Other Grand Opera. As well as music by his contemporaries, a broad sampling of Saint-Sa?nss own compositions will be presented, from canonical works like the Danse macabre to such comparative rarities as the late solo sonatas for oboe and bassoon. Two panel discussions will be supplemented by informative preconcert talks before each performance that illuminate the concerts themes and are free to ticket holders.
Weekend One, August 1012: Paris and the Culture of Cosmopolitanism
The first weekend of the Bard Music Festival includes a reconsideration of Saint-Sa?nss most famous piece, The Carnival of the Animals, which he judged so poor a reflection of his work that it was kept under lock and key until after his death. Also featured are such favorites as the soaring Third Symphony, his official magnum opus and his Fifth Piano Concerto, alongside less familiar works like La Muse et le po?te, and a generous selection of his sadly neglected chamber repertoire.